Simon Kincaid from internationally-renowned design studio, Conran and Partners, shares how confidence and creative authenticity helped shape the design of these new homes.

All homes at The Founding are designed with earthy tones that celebrate the abundance of nature, in perfect harmony with engineered details that pay homage to the area's industrial past.
Q How does it feel to be given the opportunity to lead residential at Canada Water masterplan with The Founding?
It's a proud feeling to be involved in the first phase of the Canada Water masterplan and actively contribute to shaping the future of the community being created.
We've been working with a highly talented and experienced design and construction team, with a collaborative spirit that allowed us to explore innovative and forward-looking design ideas that align with the vision of sustainability and progress of British Land.
Moreover, a close long-standing partnership with the architects, Allies and Morrison, further boosted our confidence in delivering exceptional results. Having collaborated with them on various projects, including residential, hotels, and restaurants such as South Place Hotel and German Gymnasium, we share a deep understanding of each other's strengths and a seamless synergy in our creative processes.
Q How do you approach a project like The Founding?
First and foremost, we set a concept vision with strong differentiation from other nearby schemes and, in response to this, generate a unique creative design narrative that connects to the sites surrounding context. Then, it's fundamental to look at what type of property it is whether it's a contemporary new build or a listed building, to ensure that our interior design schemes respect and reference, hence creating a seamless synergy between the interior and exterior.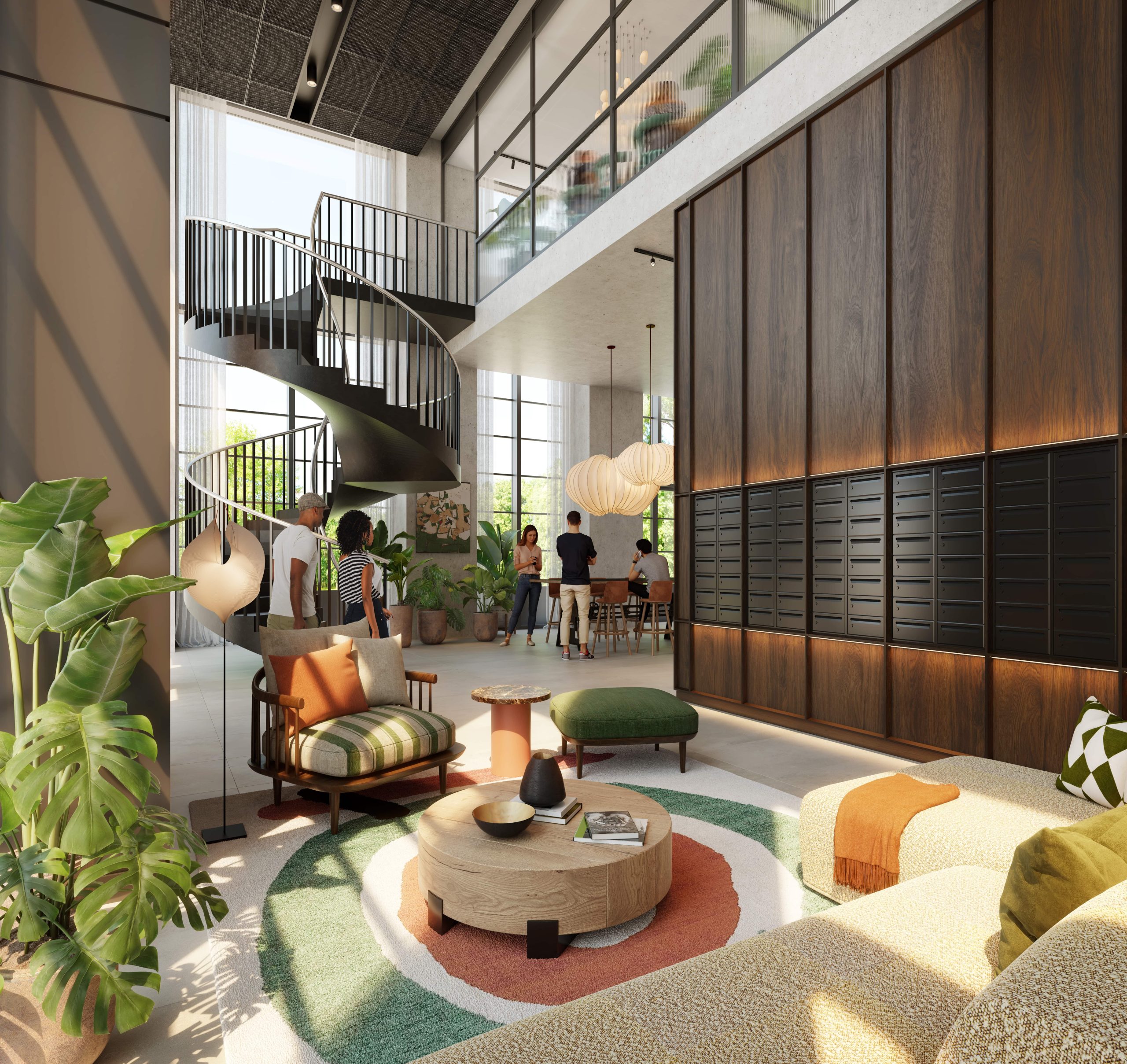 Q How much has the fabric of Canada Water influenced the interiors?
The surroundings played a huge part in our design process, from nature to the area's industrial past. In the apartment, the living area's earthy tones with green, blue and orange touches recall the nature of Southwark Park, Russia Dock Woodland and Stave Hill, and the full-height dark veneered kitchens cabinets with industrial engineered details are backdropped with white metro tiles whose glazed surface mimic the reflections on the local waterways. All our design choices pay homage to the location's industrial past whilst also offering a nod to Canada Water's rich abundance of nature, and green spaces.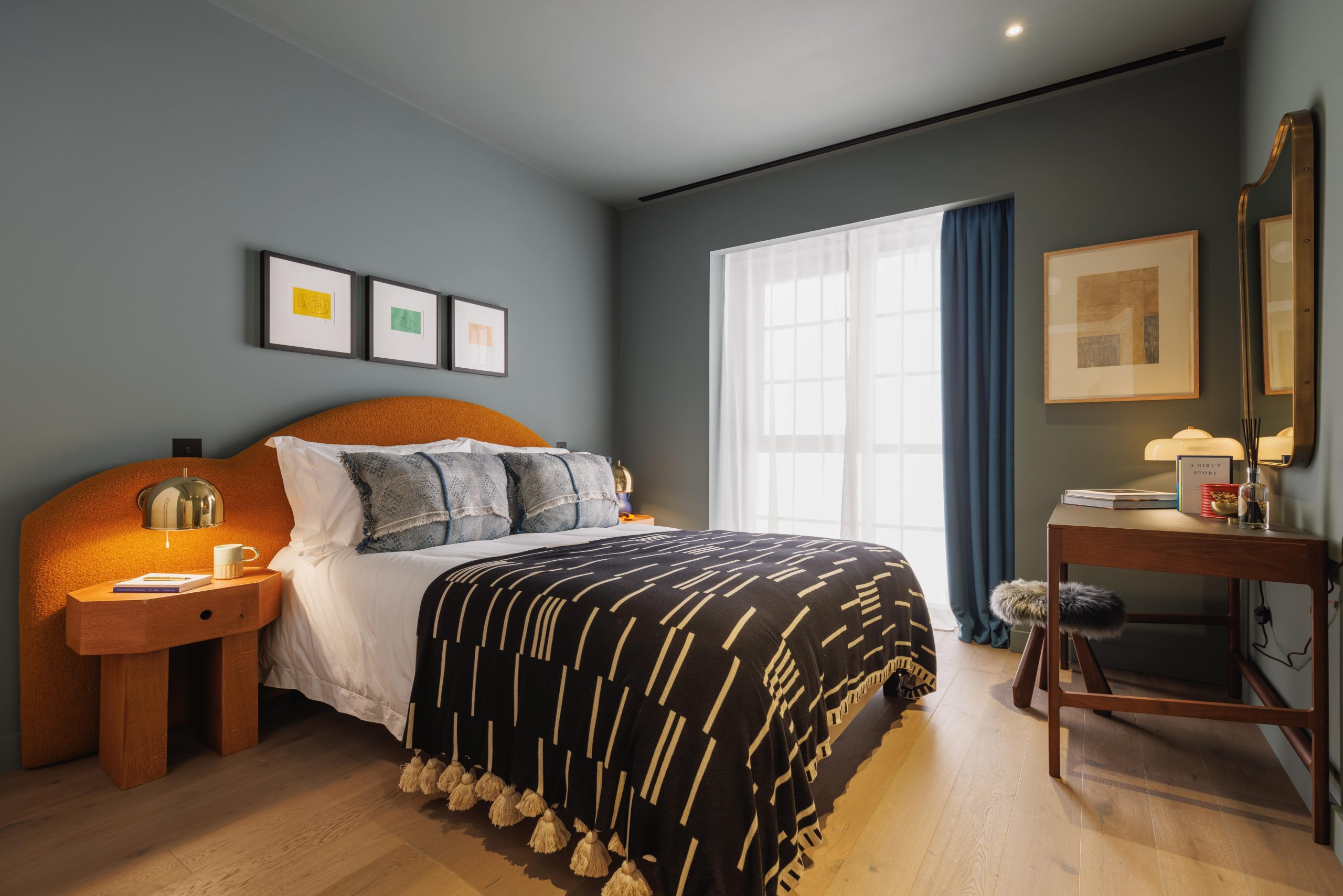 Q In your opinion, what's the perfect recipe for creating soul and character in a new build?
The most important ingredient is a creative authenticity that draws inspiration from the area's historical, current, and future context. This process requires a thoughtful blend of intellectual and emotional input to extract and interpret inspirations.
By shaping the form, material, colour, and overall character of the interior design based on these influences, new builds can reflect the area's rich heritage and foster a sense of community and belonging for its residents and visitors.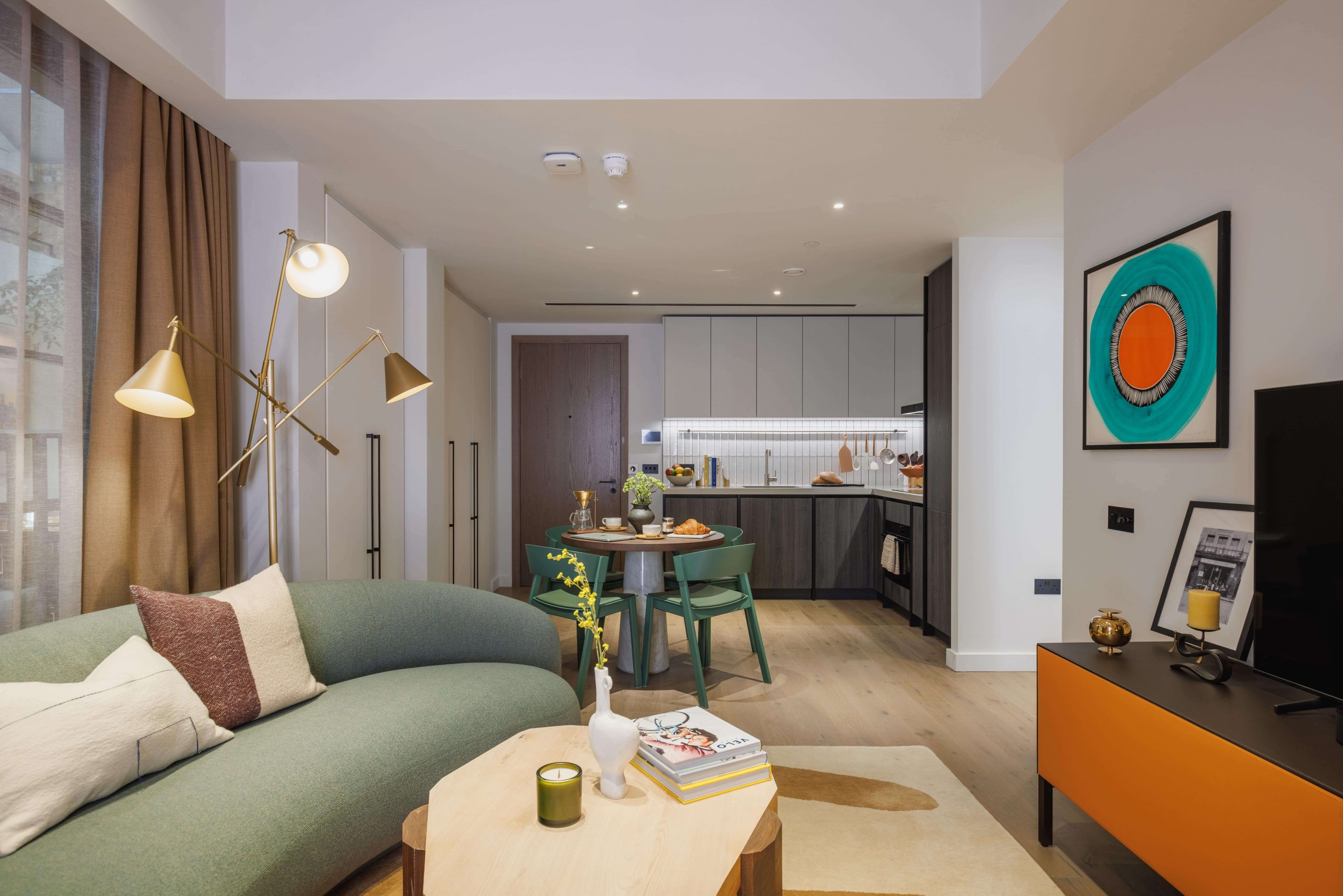 Q If you were lucky enough to own a property here, which would you choose and why?
I have a soft spot for the studio apartments' layout, combining living and bedroom spaces within the area of the raised exposed ceiling make for a spacious and light-filled ambiance. With a very generous kitchen dining area – it feels very hotel-suite-like.
However, my ultimate choice would be a north-west facing 3-bedroom unit at a higher level, where I could entertain guests in the double aspect kitchen-living-dining space with magnetic city views. Also, that way I could be close to The Founding's two communal terraces – one for relaxing and one for impressing guests with stunning city views at sunset.
Q What part of the design process for The Founding apartments did you enjoy the most?
I would say choosing the material palettes. Working on how different finishes complement and contrast with each other is always a highly satisfying experience. The creative exploration of various materials and their interactions helped us craft unique and harmonious combinations that bring out the best in each element, contributing to the overall character and aesthetic appeal of the apartments.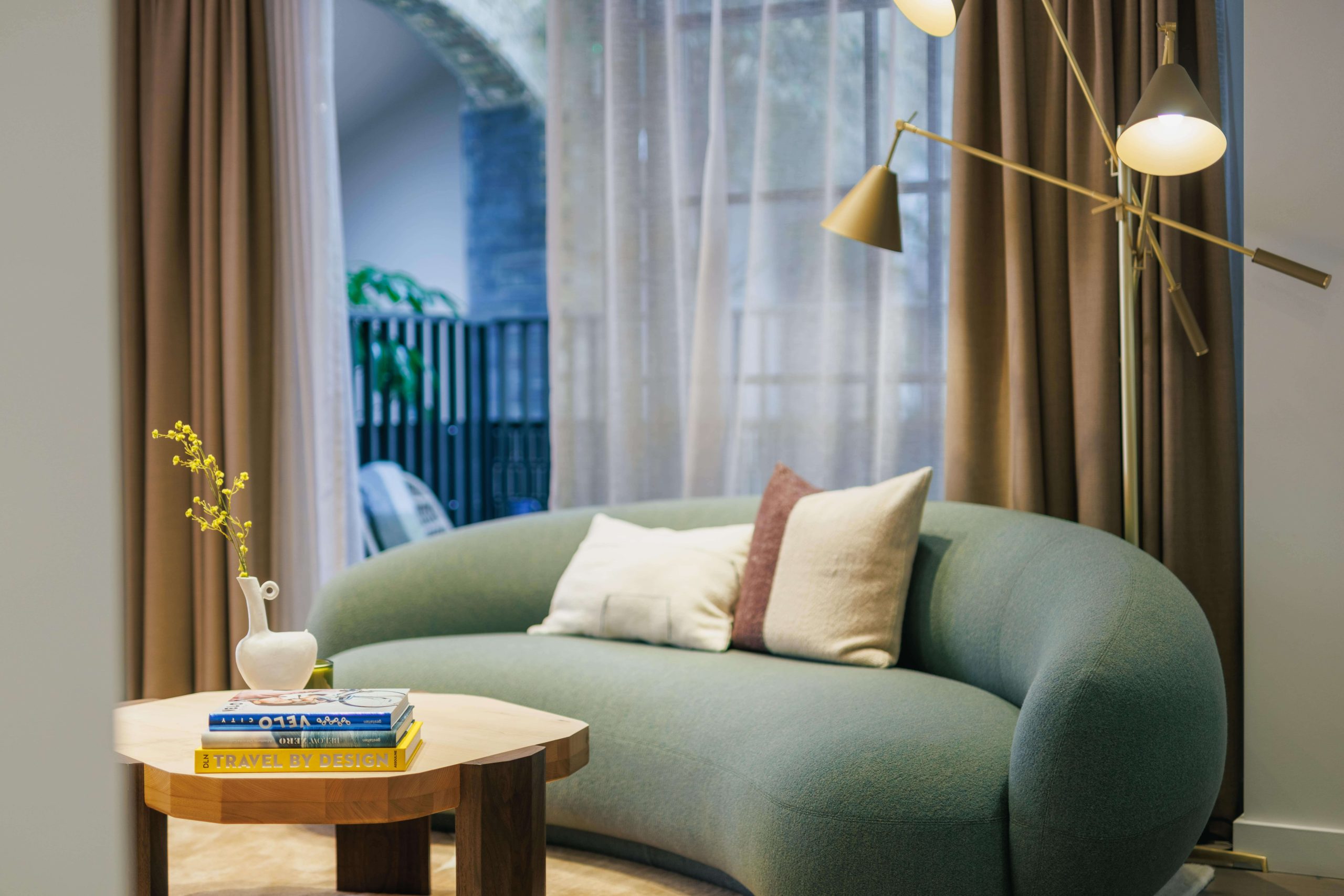 Q Conran and Partners' late founder Sir Terence Conran said, "good design improves people's lives". So how do the apartments at The Founding meet the needs, desires, and wellness of those who live in them?
Terence's famous quote inspires everything we do, and for the apartments at The Founding we prioritised efficiency and intuitiveness in layouts, offering well-designed kitchens and ample storage, and we created an emotional connection through thoughtful materiality, textures, and colours. This does not stop at the apartments' interiors, with its subtle yet comforting sense of identity, but permeates the shared spaces with locally crafted furnishings and art, establishing a genuine connection to the area.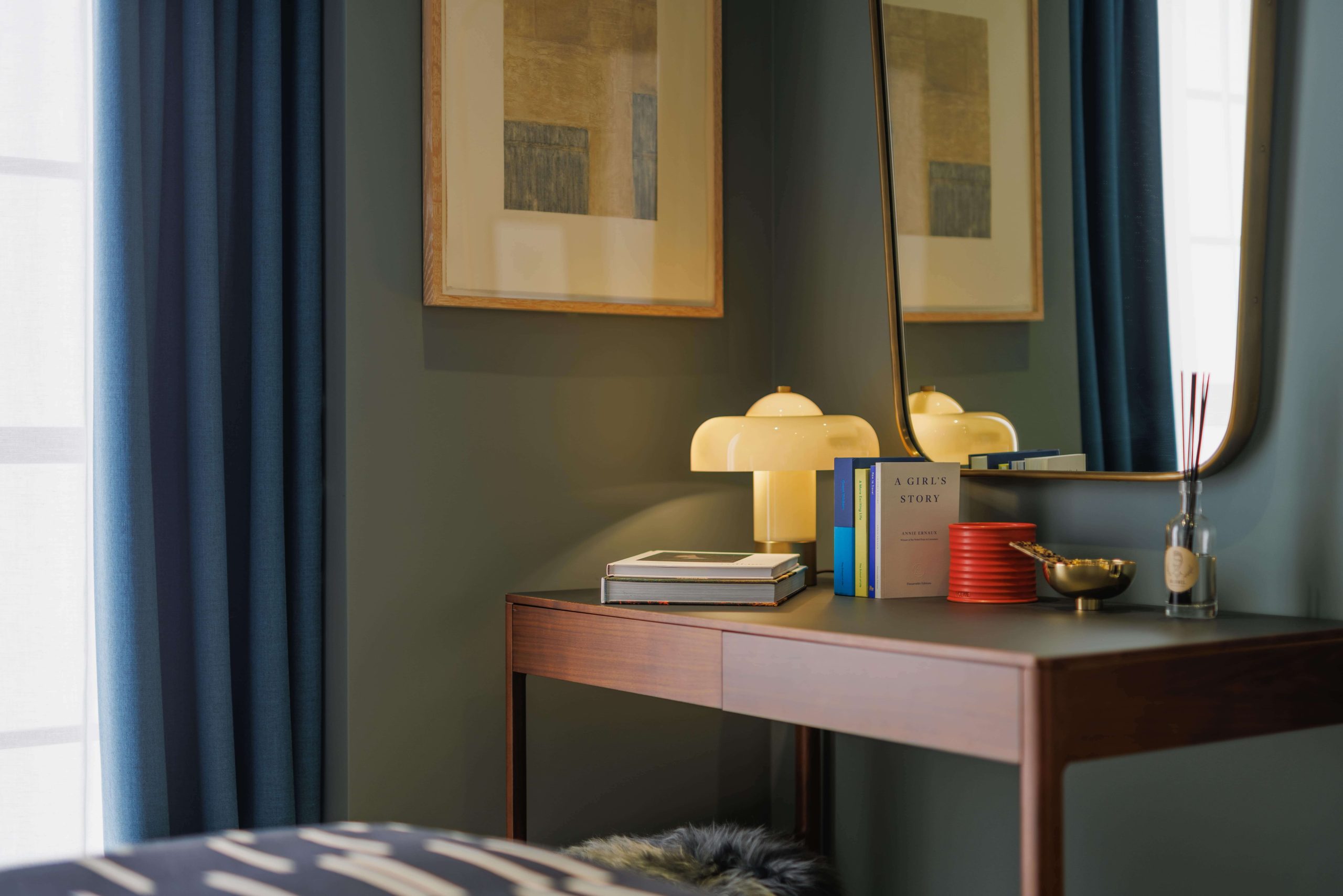 Q This is British Lands first residential building in Canada Water. Were there any moments when you were scratching your heads, and if so, why?
Being the first residential building in Canada Water, we were conscious that this had to project a true and recognisable reference to the overall masterplan vision of the sense-of-place, character, and sustainable living.
The design responded to the brief in a clear and confident manner, embracing a refined and elegant industrial aesthetic. This decisive approach gave us the confidence to overcome any hurdles and delivered a residential building that not only fulfilled British Land's aspirations but also resonated with the larger masterplan vision.
Q The marketing suite is currently based in a Grade II listed building, how did this affect your approach and how did this differ to the approach you took with the apartments? What did you do to ensure that the marketing suite was a fair representation of The Founding? Were there any challenges? If so, what were they? 
We purposefully exposed as much of the original frame and materiality as possible created a striking contrast with the "newness" of The Founding apartments, infusing the space with warmth, depth, and a sense of provenance. Our aim was to make the marketing suite feel warm, calm, and homely, with a deliberate anti-corporate atmosphere and minimal branding. We wanted to create a peaceful and hospitable environment where visitors could immerse themselves in the lifestyle offered by The Founding.
The result is a marketing suite that not only honours the heritage of the Dock Offices but also provides an immersive and captivating experience for potential residents, bringing the essence of The Founding to life in a welcoming and inviting setting.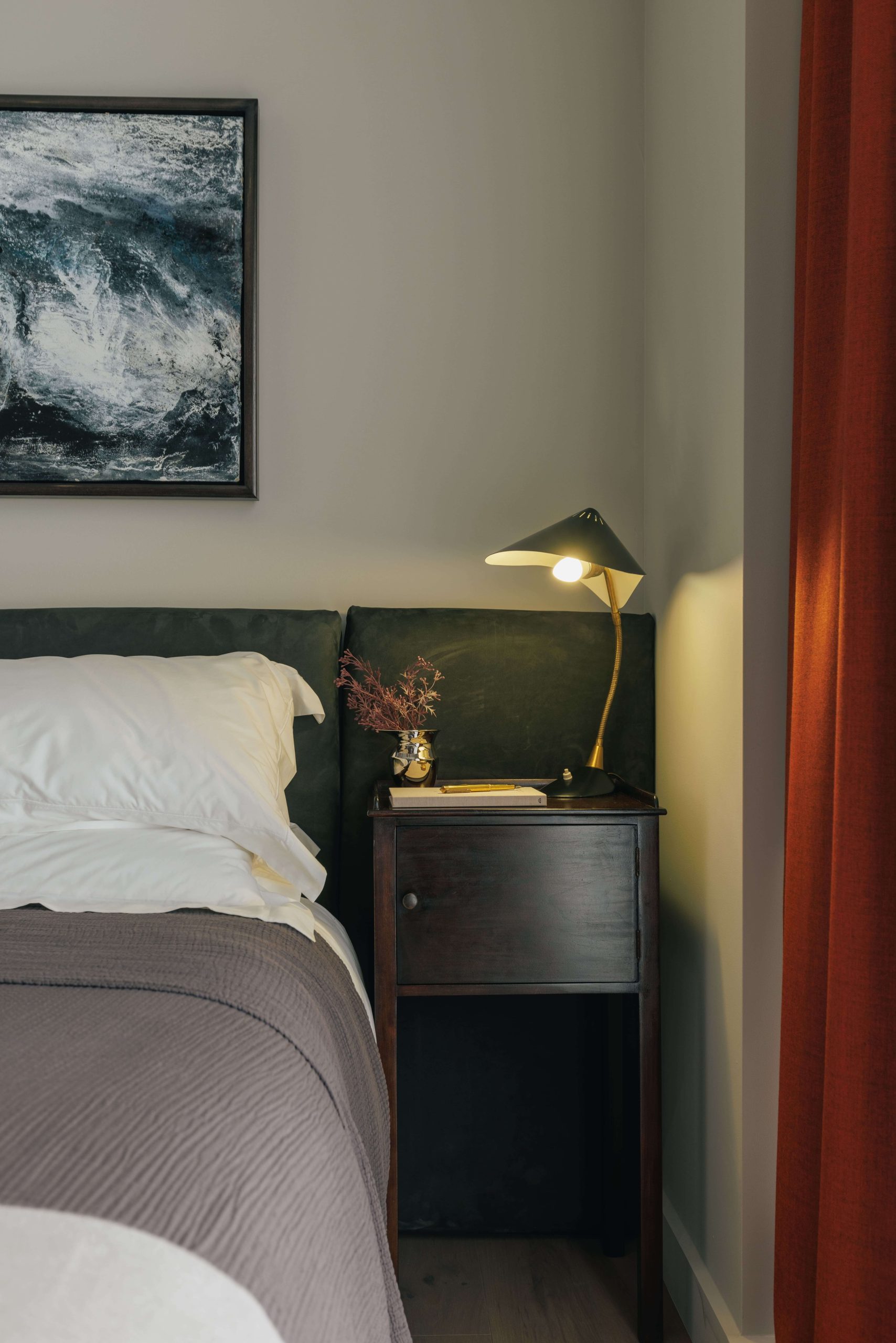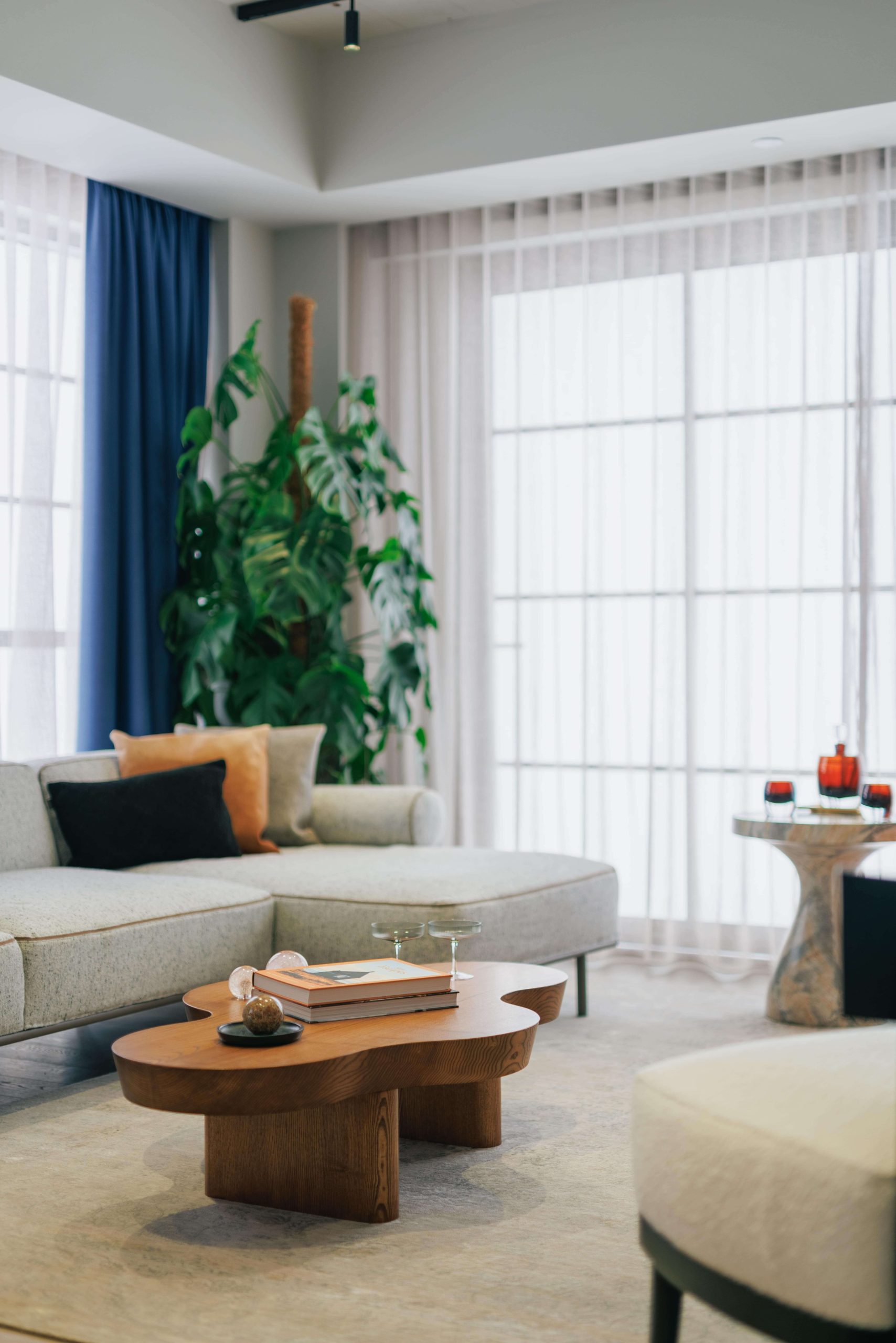 Q You invite your best friend to The Founding for dinner, what will they tell their friends?
That's a great question. I hope they would take away lasting memories from experiencing the lobby space upon arrival and the incredible city views from the terrace over an aperitivo as much as from the hospitality and meal!
Q Did you collaborate with any local suppliers or small businesses in the area?
As we wanted to create a deep sense of connection with the locale, we decided to work with local makers from the early stages of the project. These include pieces from glass-maker Peter Layton, textiles from award-winning weaver Maria Sigma, ceramics from Kerry Hastings, Izzy Letty and Mae Ceramics, salved furniture from antiques store LASSCO, together with bespoke furniture items by Goldfinch.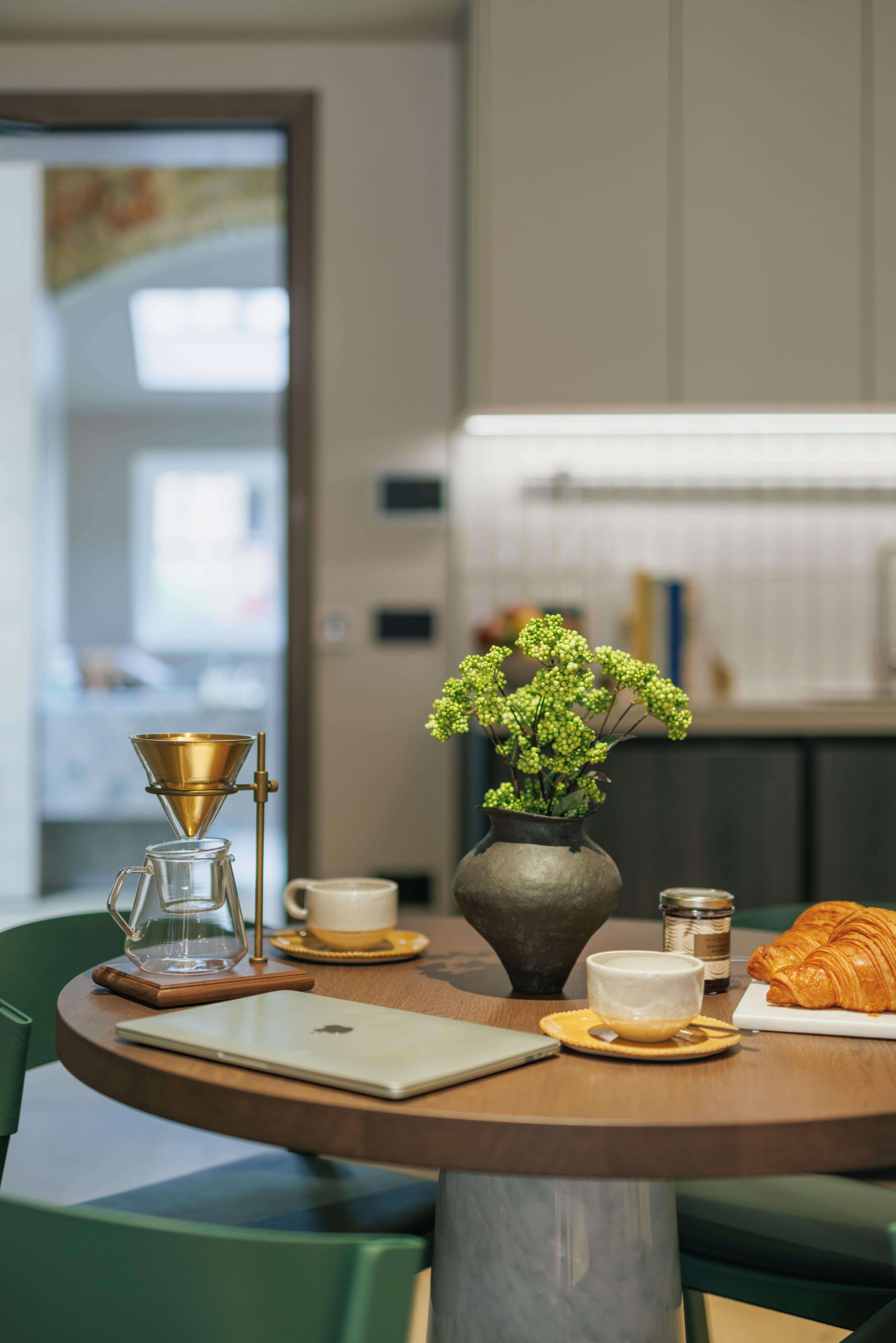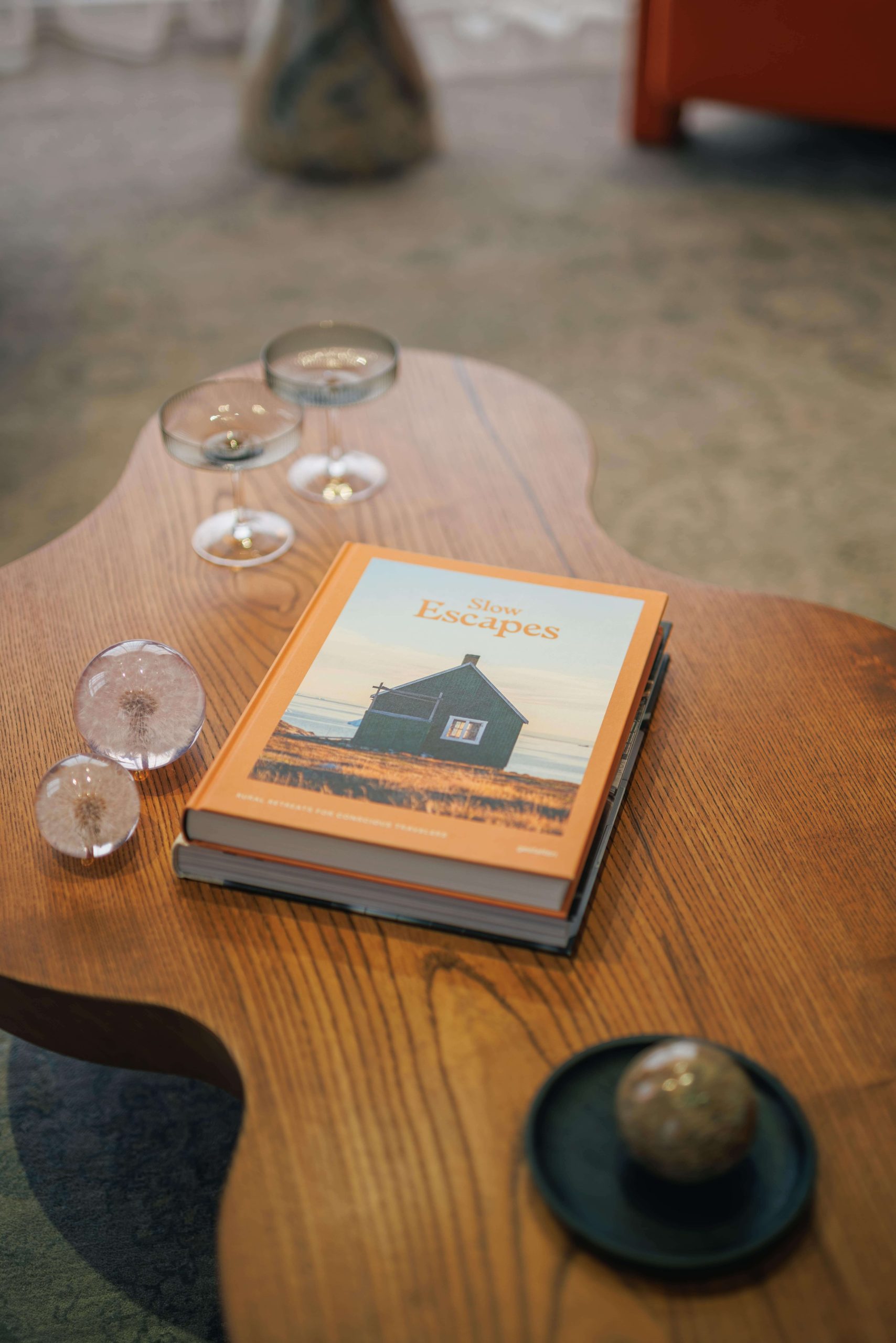 Q What one design decision / feature is the star of the show?
It's hard to find a star. If I really had to choose one, I would say the Dock Office marketing suite. From entering the warehouse building through the inviting courtyard to arriving at the open and welcoming volume, the design gives a true and captivating sense of place, setting the perfect stage for visitors to explore and appreciate the unique charm and appeal of The Founding apartments.
Q Finally, if The Founding was to take on the persona of an artist, who might it be?
The scheme would pair well with modernist furniture designers, like Jean Prouve, or Eileen Gray, both of whom combine industrial design alongside use of natural materials.